What Is Security Awareness Certification Training?
Security awareness training teaches you to spot fakes, avoid risks online, and use good cyber-hygiene practices at work and at home to protect themselves and their organization's assets from loss or harm. Criminals take advantage of your trust, panic, greed, fear, and human error.
Your employees are the weak point in your security infrastructure. Make them your strength with our  Certified CyberSecurity Awareness Professional Certification training.
Students learn how hackers use social engineering tools like spoofing, Deceptive Phishing, W2 Phishing, Search Engine Phishing, Pharming, Spear Phishing, Whaling / CEO Fraud, Vishing, SMiSHing, Dropbox Phishing, Google Docs Phishing, Image Phishing, Piggybacking, Dumpster diving, Eavesdropping and many more. With different types of Malware like Computer viruses, Worms, Trojan horses, Ransomware, Spyware, Adware, Scareware, Keylogger, etc you want to be aware of threats around you. The overall goal is to protect you from financial losses, identity theft, and damage to your reputation caused due to breaches of security by criminals.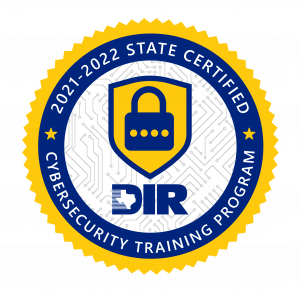 CCAP approved as Certified Cybersecurity Training Program under Texas House Bill (HB) 3834
The Texas Department of Information Resources (DIR) has approved the cybersecurity training program of CCAP  for use by state and local government employees, in accordance with House Bill (HB) 3834.
In accordance with Section 2054.519, Texas Government Code, the Texas Department of Information Resources (DIR) has reviewed this cybersecurity training program and determined that it meets the required criteria. It is certified for state and local government employees. The certification is valid through August 31, 2022.
Why Companies & Individuals Need Security Awareness Training?
FBI's Internet Crime Complaint Center annual report says in 2019 US victims lost $3.5 billion, which does not include unreported losses.  The benefits of investing in security awareness training outweigh the cost of a leak or breach. The following are some of the potential repercussions should your business fall victim to a cyber-attack:
Loss of revenue
Reputation damage
Loss of clients
Operational disruptions
Lawsuits
Intellectual property (IP) cyber theft
Theft of personally identifiable information (PII)
Compromised client data, sensitive business information, and equipment
This training is the first line of defense and can help the company prevent the above-mentioned problems.
Who should take this training?
Technology alone cannot protect you from cybercrime threats. Criminals go where security is weakest. Humans are considered the weakest link in the chain.  Humans are a link in the chain & the first line of defense.
This course is specifically designed for today's computer users who a substantial portion of their time using the Internet extensively to work, study and play.
Employees
Business owners
Individuals applying for the first job in their life
Seniors
Parents
Volunteers
Kids
With kids having access to the internet through cell phones, laptops, iPads & tablets at home, kids must take this training as criminals can use different techniques to hack into their home network, possibly leading to a breach.
Course Objectives
The purpose of the CCAP certification program is to provide individuals with the essential knowledge and skills to protect their information assets. This class will immerse students into a learning environment where they will acquire a fundamental understanding of various computer and network security threats such as identity theft, online phishing scams, virus and backdoors, email hoaxes, loss of confidential information, hacking attacks, and social engineering. More importantly, the skills learned from the class help students take the necessary steps to mitigate their security exposure.
After completing this training:
Users will be aware of what "information security" means
Users will be aware of the types of information (e.g. confidential, private, sensitive, etc.) they are responsible for safeguarding
Users will be aware of the forms and locations of the information they are responsible for safeguarding
Users will be aware of how to safeguard against unauthorized access to information, information systems, and secure facilities/locations.
Users will be aware of how to safeguard against unauthorized use of information and information systems
Users will be aware of best practices related to securely storing information
Users will be aware of best practices related to securely disposing and sanitizing information and information systems.
Users will be aware of the meaning of "threat" with regards to information security
Users will be aware of common "threat actors" and their motivations.
Users will be aware of the meaning of "risk" & "attack" with regards to information security
Users will be aware of how to identify indicators for common attacks
Users will be aware of how to respond to and report on common attacks or suspicious activity
What Does the Course Cover?
The course includes the following subject areas:
Introduction
Security Training and Its importance
How does this training help?
Breach Cost
Bad Actors
What is information security, risk, threats, attacks
Information security: CIA
Information security controls
Our Working Conditions
Working Remotely
Smart devices
Threat Target – Humans

Spoofing
Caller ID Spoofing
One ring Phone scam
IP Spoofing
URL Spoofing
Email address Spoofing

IoT/Home Security
Security While Traveling
Physical Security Concerns
Dumpster Diving
Piggybacking
Tailgating
Eavesdropping
Portable Media Devices
Email communications
Social Engineering
Phishing scams & Threats
Deceptive Phishing
Whaling / CEO Fraud
W2 Phishing
Search Engine Phishing
Pharming
Spear Phishing
Vishing
SMiSHing
Dropbox Phishing
Google Docs Phishing
Image Phishing
Protect against Identity Theft
Examples of Social Engineering
Social Media
Personal Social Media
Business Social Media
Social Media & "BYOD"
Malware
Computer viruses
Worms
Trojan horses
Ransomware
Spyware
Adware
Scareware
Keylogger
Signs of infection
Password: Guidelines and Best Practices
Two-factor Authentication
Internet Security
Guidelines and Best Practices
Is the link safe?
Hover mouse before clicking
Downloading safely
VOIP Communications
Advantages & disadvantages
Phone scams
System and Device Security
Operating System and Device Security
Mobile devices
Cloud
About the Exam
This course will prepare a candidate to sit for the CCAP Examination.  Here is the essential information about the exam:
Prerequisite: None
Testing Center: Time-bound online tests can be taken from anywhere
Number of Questions: 30
Passing score: 80%
Test Duration: 30 Min
Test Format: Multiple Choice
Certificate Expiry: 2 Years
Training Options with Certification test
Online Self-Study
Slides with Audio: Yes
Self-Paced: Yes
Avg Completion Time: 4 Hours / Course
Access: Online Access for 60 Days
Certificate of Completion: Yes
This format is a self-study environment that delivers the course content in a professionally narrated streaming format with self-paced slide information.
Online Self Study Training WITHOUT CCAP Exam: $45 per student (student will get course completion certificate)
Certified CyberSecurity Awareness Professional (CCAP) Training with ONE CCAP Exam: $120 per student. Cost to retake is $75 per attempt. After passing the test, the student gets certified as CCAP and can use those credentials with their names and have the right to use the logo.
Certified CyberSecurity Awareness Professional (CCAP) Training with Unlimited CCAP Exam Attempts: $150 per student. Students can take the test multiple times till they pass. No additional cost for retaking the test. After passing the test, the student gets certified as CCAP and can use those credentials with their names and have the right to use the logo.
One attempt CCAP Exam Only: $75 per student
Virtual Classroom Live
If you are a group of more than 20 employees and want an instructor to provide this live online training through WebEx/Zoom then contact us for a quote.
To add CCAP certification credential to your LinkedIn profile, visit https://lnkd.in/binRJ4d&trk=email_url
If you have any questions, feel free to call us at 515-865-4591 or send us an email at Bob@hipaatraining.net
Testimonial
This course is a true tour de force when it comes to cybersecurity. The sponsors focus on the issues and threats that impact on all of us. How, and to what extent, you implement the information and advice provided will depend on your needs, risk tolerance, and ability to withstand the consequences should a threat materialize. The material is well organized and paced in such a way that the "student" has time to make notes. Whether you are a student, a person responsible for a household, retiree, employee, corporate official, or security officer, you will find the material here you can understand and, importantly, put to use immediately in your cyberenvironment.
I enjoyed getting the training from your team. It is always great information and with CCAP it did build confidence in my knowledge and what I needed to learn and what's out in the world when it comes to Cyber Security.
"Over the past year, I have taken several online courses from the Supremus Group and found them to be excellent. The content is extremely relevant and up to date. I have used much of what I learned already to the benefit of my employer (a large government organization). I highly recommend them and urge everyone interested to take their courses. You will be happy you did!"
The test really made me think about how to approach certain risks. Great information.
Good content. Easy to understand
Overall I felt it was a good course.
This was very informative! I would recommend to others.
Great course! I really enjoyed all of the information that I got from this course.
Great course and very informative. Thank you.
This was an intense course! Tons and tons of information. I liked the recap at the end, that was very helpful to solidify all the information in my brain.
It was clear and straight to the point.
I am glad to have taken this course to get a better understanding of cybersecurity awareness to carry on throughout my career and spread onto others.
Very well taught and laid out, would recommend to others.
This course was great! Very informative. A great reminder to us all to keep information safe.
I love the information that was shared. I will share this along with my family and friends to make them more knowledgeable. Thanks enjoyed it!!!
This was a rather challenging course! Glad to have been through the training and have the knowledge to be able to protect my company thoroughly in the future.
Great and inclusive training, thank you!