Applications and Data Criticality Analysis Objective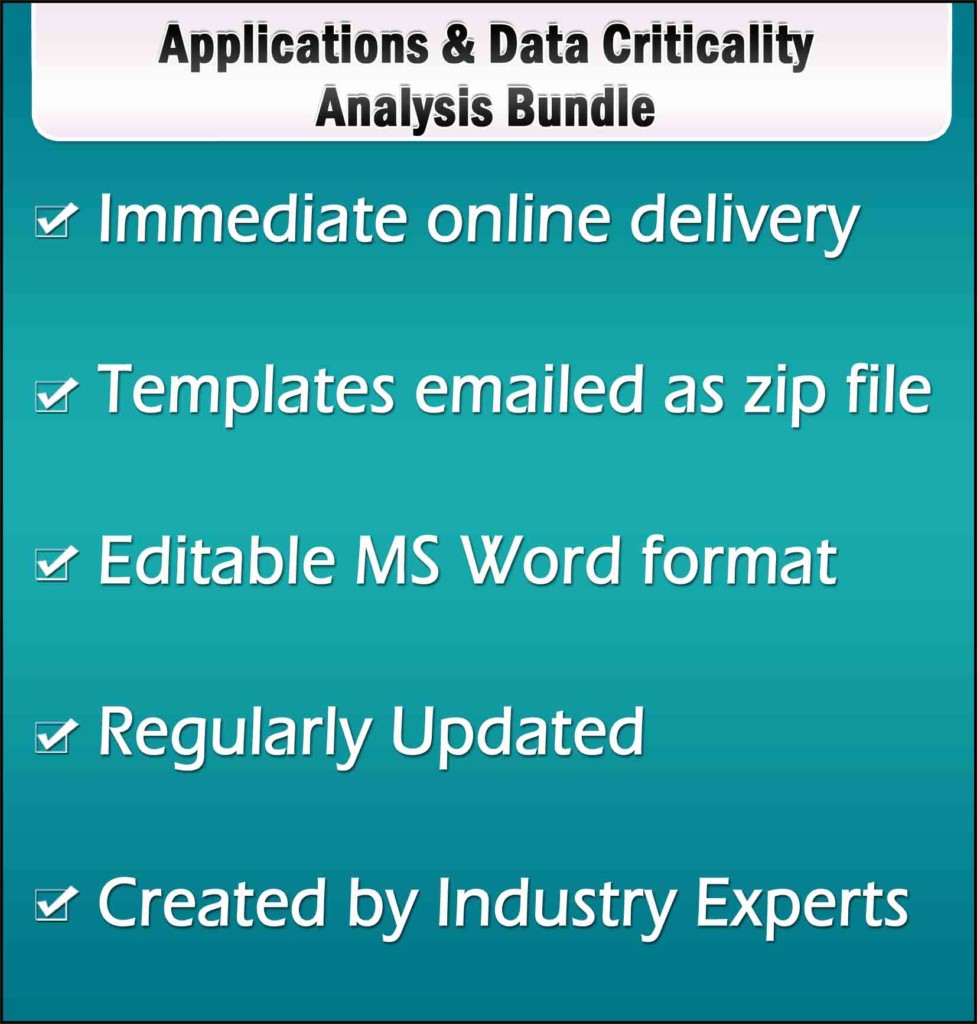 The main intention and purpose of the Application Analysis and Data Criticality Analysis template are to find out the critical units and criticality that exist within the covered entities of all application-based components and the possible losses which may be encountered if these components are not available for a specific period of time. This Application and Data Criticality Analysis template are designed to gather all the important information that is highly needed to support the development of alternative processing strategies, solutions, and IS Recovery plans.
Before proceeding further with the Application and Data Criticality, the Business Impact Analysis (BIA) process should be completed. The outcome of the Business Impact Analysis should be used to evaluate technology requirements based on the business needs.
This questionnaire also serves as a compliance method for meeting the regulatory compliance requirements for Application & Data Criticality Analysis.
Table of Contents of Applications and Data Criticality Analysis Template
OBJECTIVE
RESPONDENT INFORMATION
APPLICATION INFORMATION
Application Information
Application Specifications
Application Users;
Application Service Providers
Application Recovery Complexity
Application Recovery Plan
Application Recovery History
Application Standard Operating Procedures
Application Source Code and Backup Information
Application Dependencies
Application Data Reconstruction
DATABASE INFORMATION
Database Information
Database Service Providers
Database Vulnerability
Database Recovery Complexity
Database Recovery Information
Database Recovery History
Database Standard Operating Procedures
Database Backup Information
Database Backup Tape Information
HARDWARE (SYSTEM) INFORMATION
Hardware Information
Hardware Environment Information
Hardware Service Providers
Hardware Vulnerability
Hardware Recovery Complexity
Hardware Recovery Plan
Hardware Recovery History
Hardware Backup Information
Hardware Backup Tape Information
NETWORK INFORMATION
Network Equipment Requirements
Network Service Providers
Network Vulnerability
Network Recovery Complexity
Network Recovery Plan
Network Recovery History
Network Standard Operating Procedures
Price: $90
Buy Applications and Data Criticality Analysis Template Now
To view a specific section of this document, please contact us at Bob@supremusgroup.com or call us at (515) 865-4591.
To buy individual template packages, visit the following links:
USER RATING:
Applications and Data Criticality Analysis Template is rated 4.4 out of 5 by 165 users.