Application Recovery Plan Purpose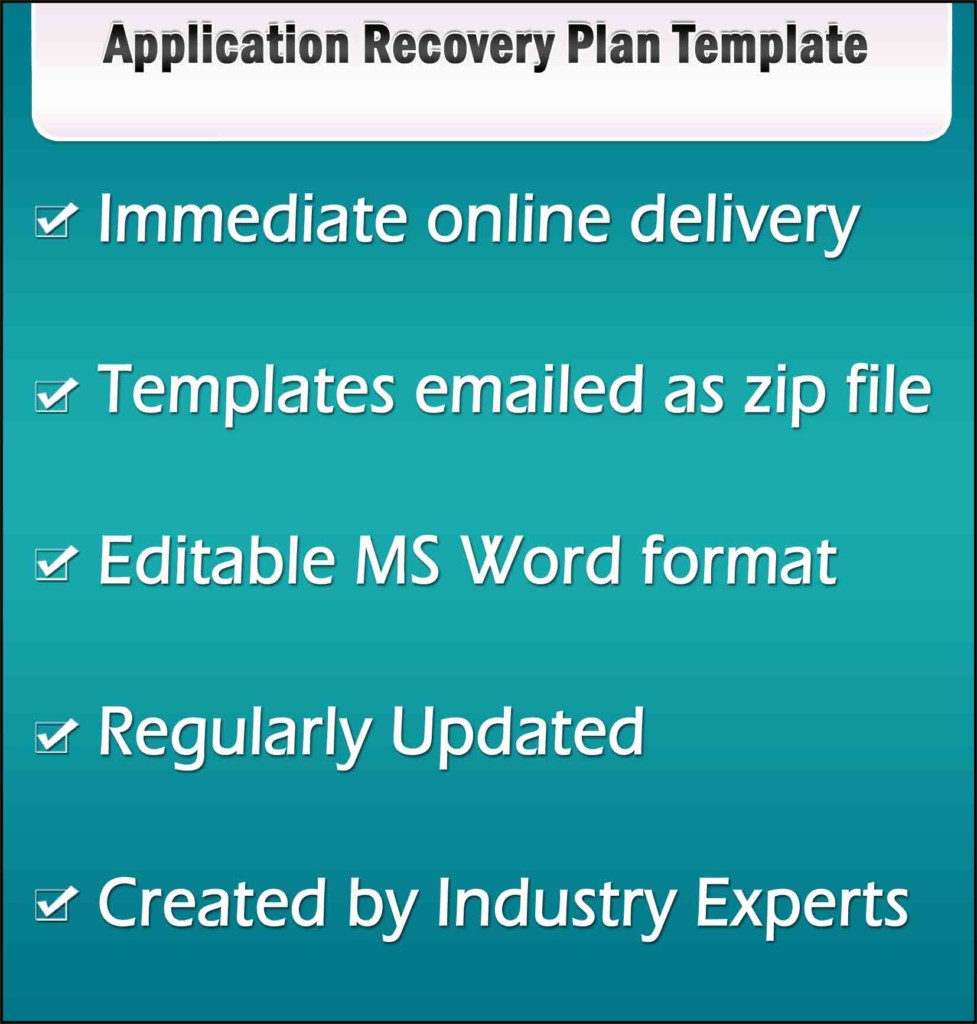 This Application Recovery Plan documents the strategies, personnel, procedures, and resources necessary to recover the <Enter Application Name> Application following any type of short or long-term disruption.  The following objectives have been established for this plan:
Maximize the value of business resumption planning by establishing recovery plans that consist of the following phases:

1. Notification / Activation:  To activate the plan and notify vendors, customers, employees, etc of the recovery activities
2. Recovery Phase:  To recovery and resume temporary IT operations on alternate hardware (equipment) and possibly at an alternate location
3. Restoration Phase:  To restore IT systems processing capabilities to normal operations at the primary location or the new location define the activities, procedures, and essential resources required to perform <Enter Application Name> processing requirements during prolonged periods of disruption to normal operations.
Allocate responsibilities to designated personnel and provide guidance for recovering <Enter Application Name> during prolong periods of interruption to normal operations.
Make certain coordination with other <Enter Company Name> Staff is conducted.
Ensure coordination with external contacts, like vendors, suppliers, etc. who will participate in the recovery process
Table of Contents for Applications Recovery Plan Template
PLAN MAINTENANCE
PLAN EXERCISE
PLAN LOCATION
PLAN DISTRIBUTION
PLAN INTRODUCTION
Purpose
Applicability
Scope
Assumptions
Use Of This Plan
APPLICATION PROFILE
Application Specifications
Server Requirements
Database Requirements
Network Requirements
Input (Feeders) Dependencies on Applications / Systems
Output (Receivers) Dependencies on Applications / Systems
Business Processes
PLAN ACTIVATION PROCEDURES
TEAM MEMBERS & RESPONSIBILITIES
Activate Team Members
Travel to Alternate Location
RECOVERY PROCEDURES
Restore Application Services
File Verification Tasks
Application Validation and Synchronization Tasks
Restoration Procedures
Original or New Site Restoration
Concurrent Processing
Plan Deactivation
APPENDIX
Appendix A: Employee Contact List
Appendix B: Vendor Contact List
To view a specific section of this document, please contact us at Bob@supremusgroup.com or call us at (515) 865-4591.
To buy individual template packages, visit the following link: